Clockinator 1.3 includes 3 new faces, as well as some under-the-hood improvements.




Circus has numbers designed and hand drawn by @hollowheadart. Reminiscent of what you might see at a circus, this festive face even has it's own train!
12 different color palettes are available, choose your favorite from the settings at the bottom of the screen.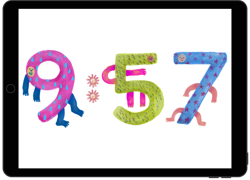 Dairysam is pure watercolor joy that hails from our neighbors to the north. Based in Toronto, @dairysam has provided Clockinator with some playful, and colorful, artwork. Color variations are chosen at random each time a digit changes.
A parade of characters, marches across the bottom of the screen when seconds are turned on. If you randomize them, you get a slight variation in colors, and an occasional procession of chickens!
More of their work can be seen at their website http://dairysam.wix.com/portfolio.




Halloween Hands. You didn't think we'd forget about Halloween did you? This update includes more monster fingers than you can count. Well, actually, you have to count them to tell the time. But it comes complete with spinning eyeballs and a trove of candy and Halloween icons across the bottom for counting seconds.
Designed by @hollowheadart in Portland, Oregon, a town nearby to Plaid's hometown of Boring. More of @hollowheadart's work can be seen at http://hollowheadstudio.com.
Other improvements include the consolidation of the rest of the faces. In previous versions you swiped through from one face to the next to see colors change. All of that is gone now and each Family of Faces can be swiped to exactly once with options in the settings at the bottom of the screen to choose color variations. A few other twists and turns have been added here and there as well. See what you can find!