Gingerbread people are invading Clockinator! Cooked to a perfect golden brown, the faces can be shown as Gingerbread Men, Gingerbread Women, or Gingerbread Folk.
Plain Gingerbread people are also available, with less icing and numbers that are slightly larger.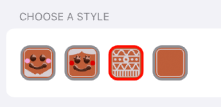 Designed by @hollowheadart in Portland, Oregon, a town nearby to Plaid's hometown of Boring. More of @hollowheadart's work can be seen in other Clockinator faces, and on his website at http://hollowheadstudio.com.